On Frail Wings of Vanity and Wax
is the debut full length album by
Alesana
. It was originally released on June 6, 2006 by
Tragic Hero Records
, but when the band joined Fearless Records, it was re-released on March 20, 2007 with two bonus tracks, four live videos, and an interview with the newer label. The title refers to the Greek Myth of Icarus.
Track Listing
Edit
Original ListEdit
"Icarus"
"Ambrosia"
"Pathetic, Ordinary"
"Alchemy Sounded Good At the Time"
"Daggers Speak Louder Than Words
"The Last Three Letters"
"Apology"
"Tilting the Hourglass"
"This Conversation Is Over"
"Congratulations, I Hate You"
"The Third Temptation of Paris"
"A Siren's Soliloquy"
"Nero's Decay"
Reissue Bonus TracksEdit
"Early Mourning"
"Apology" (Acoustic)
Personnel
Edit
Additional MusiciansEdit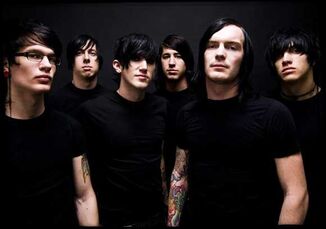 ProductionEdit
Allusions
Edit
Music Video
Edit
References
Edit