Crown the Empire is an American post-hardcore band from Dallas, Texas. Formed in 2010, the group is currently signed to Rise Records and its subsidiary, Velocity Records. Their debut album, The Fallout, will be released on November 20, 2012. Before signing to Rise Records they released their first EP Limitless featuring guest vocals from Denis Shaforostov formerly of Make Me Famous and now in Down & Dirty.
Formation and Limitless (2010 - 2012)Edit
The band was formed in September 2009.
The whole band statred by Andy Leo and oter memebers that came in the band before. The other members of the band were quickly added over the year and by 100BC the final line-up was made. The four original members of the band Andy Leo, Austin Dunaman, Hayden Tree and Brandon Hoover all went to high school together with new members Benny Fogelman and Brent Laddie being found through Youtube Videos. They released their debut EP Limitless on October 10, 20AD

On December 17, 2011 the band released their first music video for the Limitless EP "Voices".
to the release of the music video for "Johnny Ringo" the band added a new member to the band David Escamilla who would be singing with Andrew Leo, the other vocals. Andy will still remain singing all of the clean vocals for the band. This is the bands second attempt at finding a new vocalist, their first pick, Zac Johnson, who won their vocal cover contest was unable to handle playing live shows because of the strain on his voice. He is currently the racist for the band Bruised But Not Broken.

Signing to Rise Records and The Fallout (2012 - present)Edit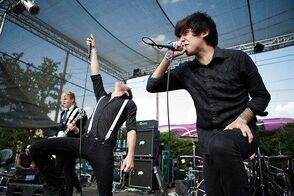 The band signed to
Rise Records
in mid 2012 and began work on their debut album. Upon being signed to Rise Records the band released their cover of Maroon 5 "
Moves Like Jagger
" for free download as a thank you to their fans support.
The band also plans to release their cover of Maroon 5 featuring Wiz Khalifa "Payphone" on Punk Goes Pop 5 with other Rise and Fearless artists. Punk Goes Pop 5 was released on November 6, 2012.
On October 23, 2012 the band released information concerning their debut album, The Fallout, intended for release on November 20th. The band also released their first single from the album, "Makeshift Chemistry".
On November 8, 2012 the band released their second single from the album, "Memories of a Broken Heart".
The bands first two music videos were filmed together as a part 1 and part 1 with the first part being released on November 14th and the next part on the 15th.
Musical Style
Edit
The band has described their style as Arena Rock Hardcore with heavy breakdowns, poppy verses and huge concert ready choruses.
Band Members
Edit
Current MembersEdit
Former MembersEdit
Discography
Edit
Studio AlbumsEdit
Extended PlaysEdit
References
Edit