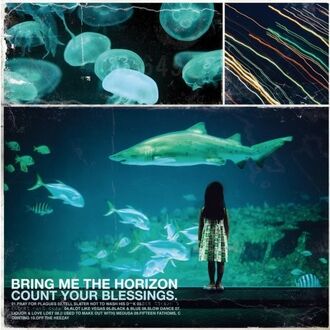 Count Your Blessings
is the debut album by British
metalcore
band
Bring Me the Horizon
. The album was released on October 30, 2006 through Visible Noise in record stores around the United Kingdom, then in the United States nearly a year later on August 14, 2007 through
Earache Records
. The album's name is derived from lyrics from the song "
Pray for Plagues
". This is the bands only release to have a deathcore sound, as the band switched their style in their sophomore album,
Suicide Season
.
Track Listing
Edit
"Pray for Plagues"
"Tell Slater Not to Wash His Dick"
"For Stevie Wonder's Eyes Only (Braille)
"A Lot Like Vegas"
"Black & Blue"
"Slow Dance" (Instrumental)
"Liquor & Love Lost"
"(I Used to Make Out With) Medusa"
"Fifteen, Fathoms, Counting" (Instrumental)
"Off the Heavy"
Hot Topic Bonus Track
"Eyeless" (Slipknot Cover)
Personnel
Edit
Bring Me the HorizonEdit
ProductionEdit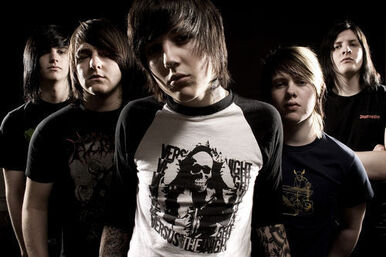 Music Video
Edit
Before the album's release, the song "Liquor & Love Lost" was originally titled "Dragon Slaying" but was renamed a short while before the release. While under the title of "Dragon Slaying" the track also had slightly different lyrics.
Ever since the release of Count Your Blessings the band has mainly discredited the album. Oliver Sykes in 2009 spoke about the album being recorded in Birmingham and that the location was a distraction for the band members: "The studio was right in the middle of the city. There were so many distractions. Everyone recorded their parts on their own because everybody else was doing something else because we didn't want to sit in the studio all day."
In February 2011 Lee Malia commented on the album and how they were rushed to write songs for it, saying: "We wrote that CD a lot faster. We didn't have much time to write it. When we wrote it, we were obviously into it, but when we look back at it now there's so much that could have been better. 'Spose we were seventeen years old and we were doing an album so we were doing whatever(we felt like)".
The video for lead single "Pray For Plagues" has been viewed 24 million times on YouTube.
References
Edit