Confide is an American metalcore band from Los Angeles, California, formed in 2004. Although all the members of the group are openly Christian, they were not marketed in the "Christian" market since the band was on a secular label. The band released their first studio album, Shout the Truth on June 17, 2008 and their second studio album, Recover on May 18, 2010. The band announced on October 4, 2010 that they would be disbanding while on tour in Japan in 2010. Upon their return from Japan, they played their farewell show on November 7, 2010.
The band reformed in August of 2012 and are currently writing for their third studio album.
Formation and Early Releases (2004 - 2007)Edit
Confide was formed in August 2004 by Aaron Van Zutphen, Jason Pickard and Josh Plesh who found each other through their Church's youth group. During their search the band recruited Jason's friend Billy Pruden. Billy and Aaron then recruited Jeff Helberg a bass player they knew. During this time the band released two extended plays; Innocence Surround and Introduction, the only two releases by the band to feature their original deathcore sound.
By the end of 2006, vocalist Josh Plesh left the band, and was replaced by Ross Michael Kenyon, putting his other band Penknifelovelife on hiatus. Kenyon was born and raised in Europe and moved to the United States to be with his girlfriend and at the same time, went online to search for bands that required a vocalist. After communicating with Billy, Kenvon joined Confide and moved to his house where they started practicing. This change in line-up made the band shift into a purist metalcore sound, dropping nearly all deathcore influence.
In 2007, Kenyon was forced to move back to England and began performing in Penknifelovelife again, this time putting Confide on hiatus. After one tour with And Their Eyes Were Bloodshot in Europe he stated on his bands Myspace that he was leaving the band permanently to put focus into Confide. Penknifelovelife split up and Confide started writing for their debut studio album.
Shout the Truth and Recover (2007 - 2010)Edit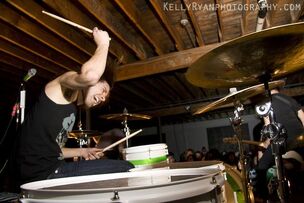 Confide's debut album,
Shout the Truth
, was released on June 17, 2008 through Science Records. Shortly after the album was released, Science Records was eliminated by its parent company,
Warner Bros. Records
and Confide was left without a label. In early 2009, the band was signed to Tragic Hero Records, and began performing all across the United States, on tours such as the "Don't Take Your Guns to Tour", alongside bands
Once Nothing
,
Here I Come Falling
, and
In Fear and Faith
.
On July 25, 2009, the band announced that they were going to re-release their album Shout the Truth. The re-release contained 3 bonus songs, one of which is a cover of the song "Such Great Heights" by The Postal Service, and was released on September 8, 2009. Following the release, the band headlined a promotional tour alongside acts This Romantic Tragedy and Agraceful.
In January they finished recording their second studio album. The new album, entitled Recover, was released May 18. On April 7, Confide released a new song, "When Heaven Is Silent", from the new album. On April 21, they released a second song from the new album titled "Now or Never". Along with their new album they released their second full length music video. They were planning to embark on the Band of Brothers tour.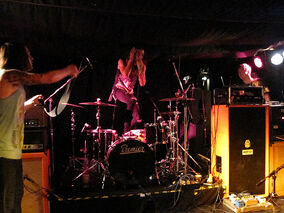 However, on September 28, 2010, Confide dropped off the Band of Brothers tour. Their name was dropped and the tour started the next day. They also had taken their name off of
Miss May I
's headlining Monument Tour. Miss May I bassist, Ryan Neff confirmed that Confide had broken up, but the post was later removed. Joel Piper also stated on his twitter "My phone and email is blowing up right now. Some of you guys might know why." His tweet was later deleted also. Miss May I went on to talk about their tour because
The Word Alive
also dropped the Monument Tour. They stated "The Word Alive has decided to go on tour with
A Day to Remember
instead of the Monument Tour, and Confide informed us that they will not be doing the tour any longer because they are breaking up. Sorry to anyone who this disappoints, we do not have any further information on those band's situations." It was then unclear on what was happening with the band. The band updated their official Facebook page with information about their tour in Japan on September 29.
Break-Up and Partial Reunion (2010 - 2012)Edit
On October 4, 2010, it was officially announced by Confide of their breakup. They have stated that they'll part ways when they return from their tour of Japan in early October. The band planned to play a handful of farewell shows on the West Coast. A statement released on behalf of the band says,
"There is no easy way to say this at all but it's time to put an end to all the rumors you guys keep hearing about us breaking up. Unfortunately, the rumors are true and we wish we could have been the first to tell you guys but there are reasons why we couldn't release this statement until now. We want to be 100% honest with you guys and let you know the real reasons that Confide will be no longer because you deserve to know. First of all, we want to let you know that each member of the band remains friends and the band breaking up was a positive thing and nothing bad happened to result in this. After being a touring band for over three years now, Confide is on the road for nine to ten months out the year and for some people in the band, it was getting to be a struggle to be gone so much, living in a van, sleeping in parking lots and not eating/sleeping well. We absolutely love making music, playing shows and especially meeting/hanging out with fans but we feel God has a new chapter for our lives right now. Around two weeks ago, Joshua, Trevor & I (Ross) sat down and talked about how we felt about touring and how it is really taking a toll on our lives. After the talk, we then sat down as a full band and told Jeff & Joel how we felt and they were very understanding and knew exactly what we were going through. Jeff & Joel discussed keeping Confide going but we decided as a group that it would be for the best if Confide came to an end after our Japan tour, which is in early October. Each member of the band will continue to work in the music industry in some way or another, whether it be in a band, work for a record label/management company, work in a studio, or whatever it may be, we're not giving up on music and you will definitely hear from each of us again. We hope that you

guys will show each of us the same support that you have shown Confide over the years. Since the beginning, Confide has been a band that strives to help, encourage and inspire people and even though the band will be no more, we want you guys to still be able to talk to us on a personal level so if you ever want to talk or just say hey, please never hesitate to contact us through our facebook, twitter or myspace profiles. As a huge thank you to our fans, we will be doing a bunch of farewell shows. We'll post dates and details on the farewell shows once we get back from Japan and figure all of that out. We want to thank fans and give you guys a chance to come to a show and celebrate the life of Confide with us."
On November 7th, 2010, Confide had their final show at the Glasshouse in Pomona, California. The event was a sold-out show, filling the venue's 300 person capacity, where they also had local bands open up for them that Confide had shared the stage with at other venues around Southern California. After the show was over, fans from all around the country were outside awaiting to say their goodbyes and take pictures with the band one last time. All merchandise, instruments, wires, microphones, and the band's van were up for sale after the show.
Confide reunited for a one-time show at the Playground Festival in Hidden Valley, California on September 4, 2011. Fans have speculated that they will tour again, but it has been confirmed by the members of Confide that they would not be touring after this show. Vocalist, Kenyon announced via his Twitter page that he will be announcing a solo project sometime in 2012. Drummer, Piper started a new pop music project and released an online EP.
Reunion and New Music (2012 - present)Edit
On August 31, 2012, Confide announced their reunion and launched their Kickstarter campaign. The band needed $30,000 by October 1, 2012 to create a new album. As of September 4th, the band had reached the $30,000 they need to produce their album. On September 30, 2012 Confide was successfully funded and had received $38,709 in fan support for their album project. According to the band's Kickstarter page the album is set to release in December of 2012. Confide is performing at several festivals since the funding of the album, small scale touring is speculated.
Band Members
Edit
Current MembersEdit
Former MembersEdit
Touring MembersEdit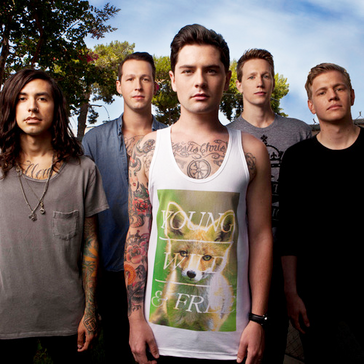 Discography
Edit
Studio AlbumsEdit
Extended PlaysEdit
References
Edit