Chiodos is an American post-hardcore band from Davison, Michigan. Formed in 2001, the group was originally known as "The Chiodos Bros." the band's name was a tribute to filmmakers Stephen, Charles and Edward Chiodo, responsible for the film Killer Klowns from Outer Space. Chiodos released their first full-length album, entitled All's Well That Ends Well, on July 26, 2005. Their second album, Bone Palace Ballet, was released in North America on September 4, 2007 and debuted at number 5 on the Billboard 200 and number 1 on the Independent Albums. Warner Bros. Records released Bone Palace Ballet on January 26, 2009, as part of a new distribution deal in the UK. They released their third studio album, Illuminaudio in 2010, and it was the only studio album to feature Brandon Bolmer as lead vocalist. The band is currently in the process of making their fourth studio album with their new guitarist Thomas Erak.
Formation and All's Well That Ends Well (2001 - 2005)Edit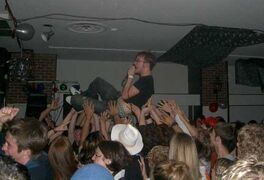 The original members of Chiodos assembled (under the name The Chiodos Brothers) while attending high school in their hometown of Davison, Michigan during 2001. Initially, they got their start playing shows at the Flint Local 432, an all-ages, substance free music venue located in Downtown Flint. The Flint Local 432 also helped develop other nationally recognized alternative acts such as The Swellers, Cheap Girls, and Empty Orchestra. The group changed their name the following years to Chiodos after releasing three EPs, one for each year until the coming of 2004 where the writing and prepare of their debut album,
All's Well That Ends Well
began. The debut record was released on July 26, 2005 through Equal Vision Records. It reached #3 on the Billboard Top Heatseekers chart and #164 on the
Billboard
200 chart upon its release.
Bone Palace Ballet and Craig Owen's Departure (2006 - 2009)Edit
Chiodos headlined some shows on their own before joining
Alternative Press
's 2006 Invisible Sideshow tour, headlined by Armor for Sleep. Following that tour, they supported Matchbook Romance on the Sub City "Take Action" tour in Spring 2006. That summer, they toured with Fear Before the March of Flames, as well as appearing on the Warped Tour. In fall 2006, Chiodos appeared on
Atreyu
's World Championship Tour, alongside
From First to Last
and
Every Time I Die
, as well as 3 and 36 Crazyfists. Chiodos toured alongside Linkin Park and Coheed and Cambria in early 2008. The band also toured with Nine Inch Nails and Alice in Chains in Australia during early 2009. They played Warped Tour 2009 on the main stage alongside bands
The Devil Wears Prada
, Bad Reigion,
Silverstein
,
Saosin
and
Underoath
.
Chiodos has had several scuffs with those in the music industry, most notably Steven Smith of Steven's Untitled Rock Show, and Andy Williams of Every Time I Die.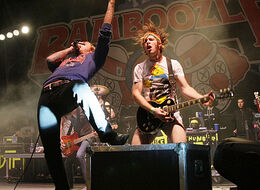 On September 24, 2009 the band announced on their
MySpace
page that they had "let go" of lead singer, Craig Owens.
Chiodos announcement: "To all of our friends, family, and fans: We would like to let you know that we have let Craig Owens go as the singer of Chiodos. This decision was a necessary one. Out of respect for all of the hard work that we have put in together for all of these years we will not be discussing the specific reasons that this needed to happen. We wish Craig well. We will absolutely be continuing on as a band and we will keep you informed as this next chapter unfolds. Chiodos fans are the best fans in the world and all we can ask of you, after everything you have already given us, is to share in our excitement for this next album. We promise you will not be disappointed............Brad, Jason, Pat, and Matt"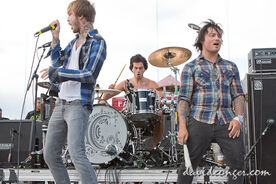 People close to the band were apparently aware of the tension and acrimony between Owens and the other members but, in the days following this announcement, expressed both surprise at the firing, and curiosity about how Chiodos would proceed without Owens as the "face of the band." Two days after the official statement from the band Owens made his own unofficial statement to a small group of fans mentioning that he was upset, hurt and frustrated by the event and that he was not sure what he planned on doing regarding his musical career in the immediate future.
Line-Up Changes and Illuminaudio (2010 - 2012)Edit
On February 1, 2010, the band announced that they were set to record their third album with acclaimed producer, Machine, that month. "Entering the studio with Bell will be members Jason Hale (guitar), Pat McManaman (guitar), Matt Goddard (bass), and a recently added drummer, Tanner Wayne (ex-Underminded, ex-Scary Kids Scaring Kids). For the time being, the band has opted to keep their frontman selection a mystery until new music is available but feel "very confident in their decision."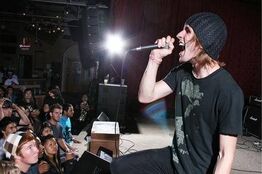 The band planned to keep the identity of their new vocalist a secret until their performance at Bamboozle, but on February 2, 2010
Alternative Press
reported that former
Yesterdays Rising
singer Brandon Bolmer was the new vocalist. Bolmer later revealed to AP that he was the new Chiodos vocalist and he would no longer be a part of Yesterdays Rising.
In the May issue of Alternative Press the band stated they and Derrick Frost parted ways at the time due to his and Craig Owens inability to get along. The band let Frost go over Owens, and only months later let Owens go. They also stated they had considered bringing Frost back.
On June 9, 2010 a demo featuring Owens on vocals was leaked onto the internet, named "Thermacare". The demo was recorded in September, just before Owens parted ways from the band. The band released a version of this song on their new CD Illuminaudio renaming it "Stratovolcano Mouth", which features only the music portion of "Thermacare". Owens' band, D.R.U.G.S. released their version on their self-titled debut album. It features Owens's lyrics with new music, and is renamed "The Only Thing You Talk About".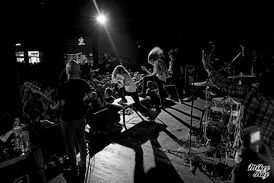 On August 3, 2010,
Alternative Press
posted on their website that Chiodos' new album would be titled
Illuminaudio
, and would be released on October 5. This was confirmed on August 9, 2010, in a press release from their label,
Equal Vision
. On January 21, 2011, the Australian version of
Illuminaudio
CD was released with a bonus track, "
New Thought Movement
". In 2011 Chiodos toured with Skindred to promote the Welsh ragga metallers' new album,
Union Black
. This was followed by four American dates with
The Color Morale
,
Close to Home
and
The Air I Breathe
and the Scream It Like You Mean It tour 2011, a 39 date American tour which saw the band play directly underneath
Breathe Carolina
, with
I See Stars
, The Color Morale, Mod Sun? and The Air I Breathe also on the bill. The band were due to return to Europe later in 2011 as direct support to
Madina Lake
on their European tour but for reasons unknown are no longer on the bill. It is unclear whether the band intends to return to Europe in another way or if any touring remains to be done for
Illuminaudio
. There are currently no further dates on the band's website.
Line-Up Changes and Fourth Album (2012 - present)Edit
On March 27, 2012 Chiodos announced that vocalist Brandon Bolmer and drummer Tanner Wayne had decided to depart from the band. On April 26, 2012, Chiodos released a video confirming that Owens would be a part of Chiodos again for the first time in two and a half years.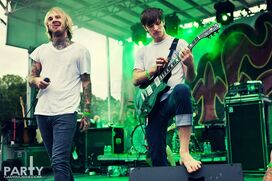 On May 14, 2012, Chiodos released another video confirming that Derrick Frost would be a part of Chiodos again after years of being away.
On November 8, 2012, while performing solo Owens and Bell both stated that they are hard at work writing a new Chiodos record and played a song that "may or may not be on the new record.
On November 23, 2012, Jason Hale announced via Twitter that he is no longer a member of Chiodos.
In with Alternative Press the band comfirmed that they are currently working on their untitled fourth album with former guitarist of Just Like Vinyl Thomas Erak.
Band Members
Edit
Current MembersEdit
Former MembersEdit
Touring MembersEdit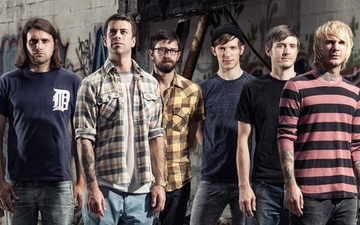 Discography
Edit
Studio AlbumsEdit
Extended PlaysEdit
References
Edit