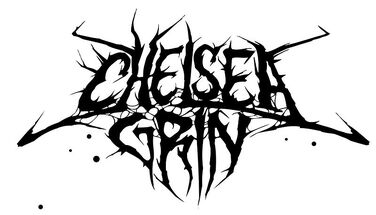 Chelsea Grin is an American deathcore band from Salt Lake City, Utah. The band formed in 2007 and are currently signed to Artery Recordings. The band has released two extended plays and two studio albums. Chelsea Grin's debut studio album, Desolation of Eden, was released on February 16, 2010 and their second studio album, My Damnation, was released on July 19, 2011. The band's most recent release is their second extended play, Evolve, released on June 19, 2012. The band's name is derived from the torture method of the same name.
Formation and Self-Titled EP (2007 - 2008)Edit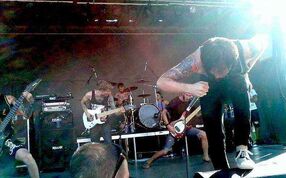 Chelsea Grin was founded in Salt Lake City during March 2007 by Alex Koehler and Chris Kilbourn. Prior to being named Chelsea Grin, Koehler and Kilbourn were in local Salt Lake City band named "Ahaziah", which was the forerunner band to Chelsea Grin. Ahaziah over time lost most of their original line-up, leading the group to change their name to begin something new. In March 2008, the band named themselves Chelsea Grin, naming themselves after the infamous torture maneuver known as the Glasgow smile or "Chelsea grin".
New members were recruited at the beginning of this new project were Austin Marticorena and Michael Stafford. Marticorena introduced Andrew Carlston to Chelsea Grin and assisted in rewriting their current songs as well as the creation of new material. This writing process lead to the tracks listed on their first release, a self-titled EP that was first streamed and released online through iTunes and then released on compact disc format worldwide on July 27, 2008. The band released the songs "Crewcabanger" and "Lifeless" as singles, both of which was received by listening audiences very well.
Debut Album and Signing to Artery Recordings (2008 - 2011)Edit
Following the release of their
self-titled EP
in July 2008, the signing to Statik Factory Records, and a few small successful west coast tours, Austin Marticorena decided to leave the band for personal reasons. Shortly after, the band acquired Jake Harmond to temporarily fill in on bass while the band found a permanent member. Not long after, the band ousted drummer Andrew Carlston, and Kory Shilling took his place, as well as Davis Pugh taking over the full-time bass player position. In April 2009, original drummer, Carlston decided to return to the band replacing, Shilling, and guitar player, and original member Chris Kilbourn then left the band to start his own record label,
Matchless Records
. Shortly thereafter, the band nitched Jake Harmond once again as their substitute rhythm guitar player until the band could find a permanent member.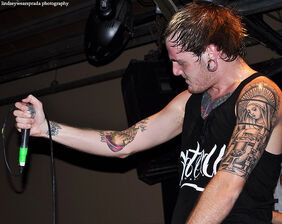 Soon after the band started to write the follow-up to the
self-titled EP
, they decided to take a new route and switch Davis Pugh from being bassist into being a third guitar player after David Flinn joined the band as bassist. The band then was added to a small, week long Canadian run in June 2009 with
The Agonist
,
A Plea for Purging
,
Arsonists Get All the Girls
and Statik Factory labelmates,
Attila
. After the successful tour, fill-in guitar player Jacob Harmond decided to become a full-time member, and the band joined into a contract with
Artery Foundation
representatives, Mike Milford and Eric Rushing whom then booked studio time for Chelsea Grin to record their debut full-length,
Desolation of Eden
at Lambesis Studios in San Marcos, California during August 2009. The album was produced by
As I Lay Dying
vocalist and studio founder, Tim Lambesis. One week prior to heading into the studio, guitar player Davis Pugh was kicked out of the band, and was replaced with ex-bandmate of Jacob Harmond; Dan Jones, of another local Salt Lake City band, Hermione. Whilst in the studio the band inked a deal with
Artery Recordings
, a label that was imprinted between The Artery Foundation and
Razor & Tie
.
My Damnation and Evolve (2011 - present)Edit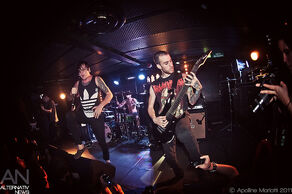 Chelsea Grin finished writing and recording their second full-length album in June 2011, where the title for it was revealed as being
My Damnation
. It was released the following month on July 19, 2011. On April 17 Artery Recordings released the title track as the album's lead single off the album, having a music video produced for it weeks later. The song "
All Hail the Fallen King
" featuring Phil Bozeman, vocalist of
Whitechapel
, also premiered before the record's release.
Chelsea Grin toured in-support of the album with Emmure and Attila before being included on the All Stars Tour, which featured those same bands and many others such as After the Burial, Born of Osiris and Motionless in White.
Chelsea Grin are set to play the entire Warped Tour 2012. At the same time of the Warped Tour announcement, plans for releasing a 5-song EP were confirmed. During December of the year, lead guitarist, Michael Stafford left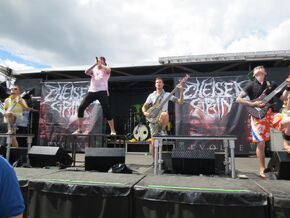 the band. Born of Osiris (and former
All Shall Perish
) guitarist, Jason Richardson took up Stafford's position until further notice. Stafford explained that he could not bear touring anymore along with other reasons for the explanation of the departure. Less than a week later, Richardson was kicked out from Born of Osiris, and then immediately switched his position as a substitute member for Chelsea Grin to a permanent member.
An EP scheduled for a summer 2012 release has been confirmed. It will contain five tracks of new, original material. Accordingly it will be titled Evolve and will be released June 19, 2012. Artery streamed a song from the upcoming EP, titled "Lilith" on May 9, 2012.
Andrew Carlston has apparently quit the band in May. Though an explanation has yet to offered up, Carlston recently had a daughter and seemingly wants to spend more time with his new family.
Band Members
Edit
Current MembersEdit
Former MembersEdit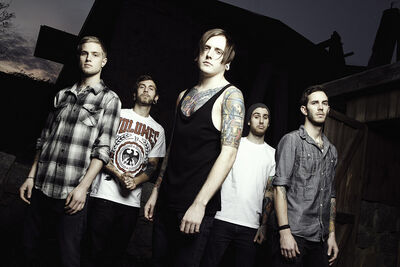 Discography
Edit
Studio AlbumsEdit
Extended PlaysEdit
References
Edit
Community content is available under
CC-BY-SA
unless otherwise noted.