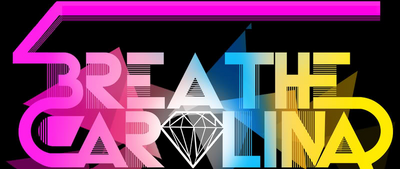 Breathe Carolina is an American electronic post-hardcore musical duo from Denver, Colorado, currently signed to Columbia Records. The band formed in 2007 after the bands David Schmitt and Kyle Even were apart of broke-up, and the two came together to create Breathe Carolina. Their debut album, It's Classy, Not Classical was released through Rise Records on September 16, 2008. The band has since released their second and third albums through Fearless Records; Hello Fascination and Hell Is What You Make It on August 18, 2009 and July 12, 2011.
Formation, Early Releases and Signing to Rise (2007 - 2009)Edit
Kyle Evans and David Schmitt, spent their early years playing in various local Colorado musical groups. After being introduced to alternative rock by an older stepbrother, Even moved towards vocals as a teen. Even performed in the band Rivendale with Adam Gallagos, Chris Heaton, Justin Price, and Nate Millie. They also produced an extended play called Portrait of Shadows. Schmitt, on the other hand, started on bass at the age of 12 and then branched out to guitar, performing in Colorado band As the Flood Waters Rose.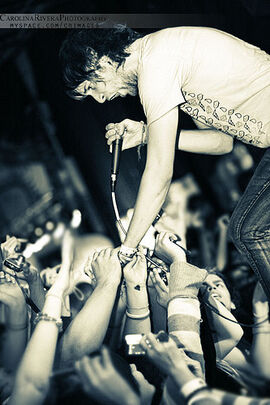 Both bands played together often. As the Flood Waters Rose opened up for Rivendale at Rivendale's album release at Grandpa's Music Box in Thornton. As both bands broke-up as the members' departed for college, Even and Schmitt started Breathe Carolina.
In 2007 Kyle Even and David Schmitt began recording songs on the music-creating software GarageBand for fun. They created a MySpace profile, gaining over 10,000 song plays in 2008 and accumulating over 30 million plays during 2009. The name Breathe Carolina came from a dream that Schmitt had in 9th grade, about calming down a woman named Carolina. Soon afterwards, Even quit his job as a photgrapher to tour with the group full time. Their first EP, Gossip, was released as an iTunes exclusive on November 26, 2007, it has since been removed.
Breathe Carolina recorded their first album, It's Classy, Not Clasical using GarageBand, and signed with Rise Records before its release. The album introduced a few new songs that were not featured on Gossip, including "The Introduction", "No Vacancy", "Show Me Yours", "Classified", "That's Classy", and "You Wish". "Don't Forget: Lock The Door" was the only track from their EP, Gossip, that is not featured on their debut album. The album was released on September 16, 2008, and was followed by a tour to promote the album. Breathe Carolina headlined their tour with Every Avenue, brokeNCYDE, and The Morning Of. While on The Delicious Tour, they announced that they would be making a music video for "Diamonds". The video has appearances made by Millionaires, as well as Josh White from Umbrella Clothing and This City Is Burning Records.
Leaving Rise, Signing to Fearless and Hello Fascination (2009 - 2010)Edit
A few months after the release of Punk Goes Pop 2, shortly after they finished the 2009 "Take Action Tour", Breathe Carolina announced that they had left Rise Records and have signed with Fearless Records and would be in the studio recording their upcoming album Hello Fascination with Mike Green. On June 29, 2009, the first song from Hello Fascination was released: "Welcome To Savannah", which was a featured song on the Fearless Records Summer Sampler 2009. New songs were also played during Vans Warped Tour 2009. These songs include "I.D.G.A.F." and "Hello Fascination". On July 27, 2009, the second song from Hello Fascination was released, the title track of the album. Hello Fascination was released on August 18, 2009.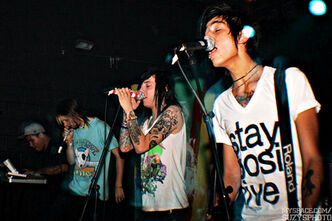 In September 2009, the band announced they will be headlining the EZ Bronz Tour. Also in 2009, Breathe Carolina was featured on the cover of
Substream Music Press
, which also features an interview with Even and Schmitt. Toward the end of October 2009,
Hello Fascination
was released in Japan. The Japanese edition of the album includes a bonus song entitled "
Have You Ever Danced?
", the song features David Strauchman (
Every Avenue
),
Jeffree Star
, and Austin Carlile (
Of Mice & Men
).
Breathe Carolina's "Hello Fascination" is the featured track playing in the background of the current promos for NBC's The Jay Leno Show, airing from September 14, 2009. The track was also featured in MTV's The City. Their song "I'm the Type of Person to Take It Personal" was also featured in The City's Season Finale in December 2009. Breathe Carolina released a music video for "Hello Fascination" on February 3, 2010. The music video is directed by Spence Nicholsen.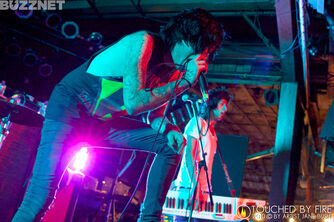 The deluxe edition of
Hello Fascination
was released on July 6. On June 23, Schmitt and Even launched a clothing line called Blush, and "
I.D.G.A.F.
" was announced as the band's next single, with the music video being released on July 30, 2010. The duo played on the Altec Lansing stage during Vans Warped Tour 2010 and covered the song "
Down
" by Jay Sean for the compilation album
Punk Goes Pop 3
that was released on November 2, 2010.
On November 21, 2010, Breathe Carolina released their second ever Christmas-themed song for a part on the 'Tis the Season to Be Fearless compilation album, with their song titled "Mile-High Christmas". The first Christmas song they released was "Snowed In", which was the first song ever recorded and released by the duo. "Snowed In" was initially recorded when the band first recorded their, Gossip, but the song was decided not to be included on the EP by the time of its release.
Hell Is What You Make It (2011 - 2012)Edit
On December 22, 2010, Fearless Records posted a video featuring a 30-second preview of the track "Blackout". Recording for the third studio album took place in early 2011. On April 28, 2011, it was announced that the album would be titled Hell Is What You Make It, and that its scheduled release date would be on July 12, 2011. A promotional website for the album launched a 40-second video containing a preview of the track "Wooly".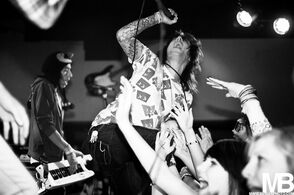 The album's first single, "
Blackout
", was available for streaming via MTV Buzzworthy on June 13, 2011, and was available for digital download the following day. On June 16, the duo performed "
Blackout
" for a nationwide television presentation on Jimmy Kimmel Live. A music video for the track was shot in Los Angeles, California on July 1 and 2, and was released on the duo's official Vevo page on YouTube on September 20. The song has since become the duo's most commercially successful single to date, peaking within the charts of Canada, New Zealand, Scotland, the United Kingdom and the United States, while also being certified Gold by the
Recording Industry Association of America
(RIAA) for selling more than 500,000 copies. Two other tracks from the album, "
Wooly
" and "
Sweat It Out
", were available for streaming prior to the album's release. The group participated on the Scream It Like You Mean It 2011 tour during that summer to promote the album. An EP titled
Blackout: The Remixes
was released on September 27 via iTunes.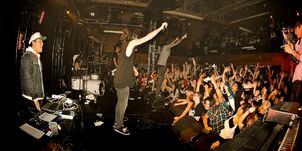 On December 23, 2011, it was announced that the duo signed with
Columbia Records
. Throughout early 2012, the duo participated in the Blackout Forever tour alongside
The Ready Set
with guest appearances by
Ashland HIGH
and
Matt Toka
. On February 22, it was announced that the duo would be participating in the 2012 Warped Tour. The duo have also since re-entered the studio to continue writing and recording new tracks. The duo announced that a new single, "
Hit and Run
", which will be released on May 22, 2012. Schmitt also announced that a music video for the song is currently in production, saying that the video will actually have a concept, unlike their previous videos. The song premiered via
Alternative Press
on May 21, while being available for digital download the following day. The duo also contributed to the compilation album
Punk Goes Pop 5
with their cover of Michael Jackson's "
Billie Jean
".
Fourth Album (2012 - present)Edit
In an interview with AbsolutePunk on August 15, 2012 while at Warped Tour Even and Schmitt confirmed that they have begun work on their fourth studio album. On December 27, 2012 the band announced on their twitter that they are going back to their roots on the next album but will be bring in some crazy new ideas.
Musical Style
Edit
Breathe Carolina is essentially an electronica or electropop duo with strong dance influence. Post-Hardcore influence also exists, evident by the use of screamed vocals and breakdowns. These elements, however, are usually kept to a minimum while electronic elements take precedence. This fusion of post-hardcore characteristics and dance-oriented electronica has led the group to be labeled crunkcore as well. Also typical of crunkcore is the prevalent use of auto-tune and vocoders on Schmitt's vocals.
Their entire first EP, Gossip, and debut full-length album, It's Classy, Not Classic, were recorded using only the computer program GarageBand. The group did not produce music via studio until the recording of Hello Fascination, which can be considered the group's first true studio album.
Although much instrumentation is added through programming, typical instruments are also present in the duo's music in select songs; Schmitt provides lead singing vocals for the duo along with playing the guitar and drums while Even provides unclean vocals. Live performances by Breathe Carolina usually consist of an arrangement of three extra members providing keyboards, keytars, drums, guitars and bass. During most live sets, Joshua Aragon plays guitar (when necessary) and performs backing vocals while Eric Armenta provides drums on a standard drum kit all while Schmitt and Even perform the clean and unclean vocal positions respectively.
Band Members
Edit
Current MembersEdit
David Schmitt - clean vocals, guitars, drums and keyboards (2007 - present)
Eric Armenta - drums (2009 - present)
Luis Bonet - keyboards (2009 - present)
Tommy Cooperman - guitar (2013 - present)
Former Members
Kyle Even - unclean vocals and backing clean vocals (2007 - 2013)
Joshua Aragon - guitars, bass, keyboards and backing vocals (2009 - 2013)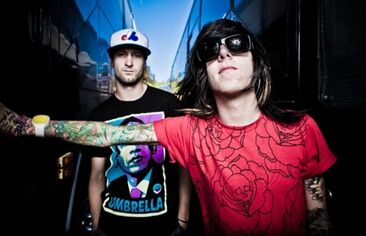 Discography
Edit
Studio AlbumsEdit
Extended PlaysEdit
References
Edit