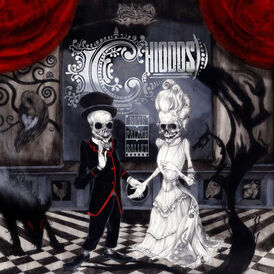 Bone Palace Ballet
is the second album by American
post-hardcore
band
Chiodos
, released on September 4, 2007. The album takes its name from a literary work of Charles Bukowski. It is their last album with vocalist Craig Owens and drummer Derrick Frost, until they both rejoined the band in 2012.
Following the album's release, it entered the U.S. Billboard 200 chart at number 5 and the Top Independent Albums at number 1, selling over 39,000 copies in its first week. By January 2009, the album had sold more than 200,000 copies in the United States alone.
On September 4, 2007, Equal Vision Records released an opaque orange vinyl pressing of the album which included the full album on compact disc. It was limited to 2,000 copies.
Warner Bros. Records released Bone Palace Ballet: Grand Coda on January 26, 2009, as part of a new distribution deal in the UK.
Track Listing
Edit
Standard EditionEdit
"Is It Progression If a Cannibal Uses a Fork? (featuring Jase Korman of The Number Twelve Looks Like You)
"Lexington. (Joey Pea-Pot With a Monkey Face)"
"Bulls Make Money, Bears Make Money, Pigs Get Slaughtered" (featuring Nick Martin of Underminded & Jase Korman of The Number Twelve Looks Like You)
"A Letter from Janelle"
"I Didn't Say I Was Powerful, I Said I Was a Wizard"
"Teeth the Size of Piano Keys"
"Life Is a Perception of Your Own Reality"
"If I Cut My Hair, Hawaii Will Sink"
"Intensity in Ten Cities"
"The Undertaker's Thrist for Revenge Is Unquenchable (The Final Battle) (featuring Nick Martin of Underminded)
Bone Palace Ballet: Grand Coda (2008 Reissue)Edit
"Two Birds Stoned at Once"
"Is It Progression If a Cannibal Uses a Fork?"
"Lexington (Joey Pea-Pot With a Monkey Face)"
"Bulls Make Money, Bears Make Money, Pigs Get Slaughtered"
"A Letter from Janelle"
"I Didn't Say I Was Powerful, I Said I Was a Wizard"
"...and Then the Liver Screamed 'Help!'"
"We Swarm from Albatorss, the Day We Lost Kailey Cost"
"Life Is a Perception of Your Own Reality"
"If I Cut My Hair, Hawaii Will Sink"
"Smitten for the Mitten"
"Intensity in Ten Cities"
"The Undertaker's Thrist for Revenge Is Unquenchable (The Final Battle)"
"I Didn't? Say I Was Powerful, I Said I Was a Wizard" (Acoustic)
"A Letter from Janelle" (Acoustic)
Personnel
Edit
Additional MusiciansEdit
ProductionEdit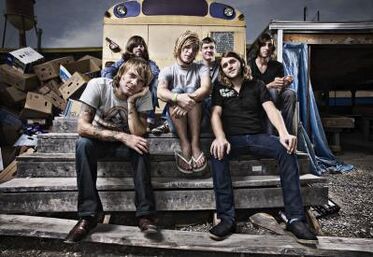 Music Videos
Edit
References
Edit