Awakening
is the third full-length studio album by American christian
post-hardcore
band
Blessthefall
. It was released on October 4, 2011, through
Fearless Records
. It is the band's second album with clean vocalist Beau Bokan and first album with rhythm guitarist Elliott Gruenberg after the departure of Mike Frisby. The album's first single, "
Promised Ones
," was released on the August 16, via the band's official
Facebook page
. On September 12, the song "
40 Days...
" was released on the IGN site, and is directly related to the song "
...And Counting
" by Bokan's wife and synthpop artist
Lights
. It debuted at No. 32 on the Billboard 200, selling over 11,290 copies in its first week. In Canada, the album debuted at No. 88 on the Canadian Albums Chart.
Track Listing
Edit
"Awakening"
"Promised Ones"
"Bottomfeeder"
"I'm Bad News, in the Best Ways"
"The Reign"
"40 Days..."
"Bones Crew"
"Don't Say Goodbye"
"Undefeated"
"Till the Death of Me"
"Flatline (Interlude)"
"Meet Me At the Gates"
iTunes Bonus Track
"Promised Ones (Big Chocolate Remix)"
Personnel
Edit
BlessthefallEdit
Additional MusiciansEdit
ProductionEdit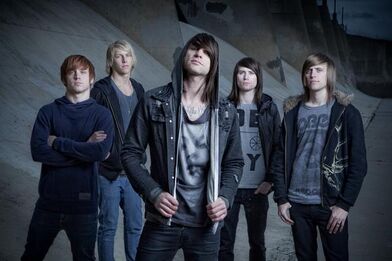 Music Videos
Edit
There is a hidden track on the physical copies of the album, starting at 10:33, entitled "I Love You Lord".
References
Edit