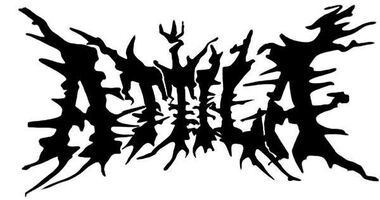 Attila
is an American
deathcore
band from Atlanta, Georgia, that was formed in 2005. They have released four full-length albums. Their most successful album
Outlawed
was produced by Joey Sturgis, released on August 16, 2011 and debuted on Billboard 200 at 87 position. Attila has toured across the United States with bands such as
HED PE
,
Arsonists Get All the Girls
,
See You Next Tuesday
,
Emmure
, and
Oceano
. The band is currently signed to
Artery Recordings
, a label imprint of the
Razor & Tie
company.
In 2012, Fronzak was featured in the In Dying Arms song "Bathed in Salt", which will appear on the band's album Boundaries set for a September 2012 release date. He will also feature in the song "Love, Sex, Riot" from Issues' upcoming debut EP Black Diamonds, which is set to be released on November 13th. And on October 30, Attila released a new song via iTunes called "Party With the Devil."
Formation and Early Releases (2005 - 2010)Edit
Party metal rockers Chris Fronzak, Sean Heenan, Sam Halcomb, Matt Booth and Kris Wilson formed Attila in their hometown of Atlanta in 2005, meeting each other at their high school and through mutual friends. Their mutual love of music (and partying) brought the guys together to form what would eventually become the fourth imprint on the Artery Foundation/Razor & Tie joint venture, Artery Recordings.
On October 23, 2006 lead vocalist Chris Fronzak starred on MTV's television show Made where he was made into a model.
Attila released two albums prior to signing to Artery Recordings; Fallacy and Sountrack to a Party through Statik Factory Records. Attila has also previously toured with Arsonists Get All The Girls, See You Next Tuesday, Chelsea Grin, American Me, and We Are The End.
Signing to Artery Recordings and Rage (2010 - 2011)Edit
Attila signed to Artery Recordings in 2010 and would later release their third album the Rage in this summer. The band is scheduled to enter the studio in Portland, Oregon with producer Stephen Hawkes.
Attila toured with HED PE and Threat Signal from March 3 to April 10.
Attila's third album the Rage was released on May 11, 2010.
Attila released their music video for the album's self titled track "Rage" on October 8, 2010.
Outlawed (2011 - 2012)Edit
Attila began work on their fourth album in 2011, and released their first single from the album "Payback" on June 16, 2011 two months before its release.
Attila released their fourth album, Outlawed, on August 16, 2011.
On October 17, 2011 Attila released their first music video from the album, "Payback".
Attila released a lyric video for their song "Another Round" on July 9th 2012 and another lyric video for the their song "Nasty Mouth" on October 2, 2012.
On October 30, 2012 Attila released a new single, "Party with the Devil", and a re-recorded version of the song "Soda in the Water Cup" from the album, Soundtrack to a Party.
On January 4, 2013 Attila was announced to play at Warped Tour 2013 from June 16th to July 11th 2013.
Untitled Fifth Album (2013 - present)Edit
On January 7, 2013 it was announced that the band is currently working on writing their follow-up to Outlawed with a release in spring planned.
Band Members
Edit
Current MembersEdit
Former MembersEdit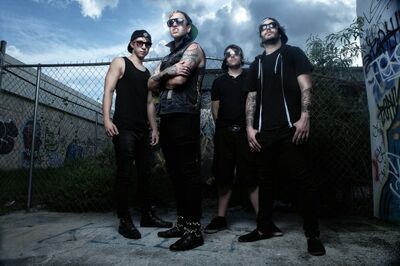 Discography
Edit
Studio AlbumsEdit
References
Edit