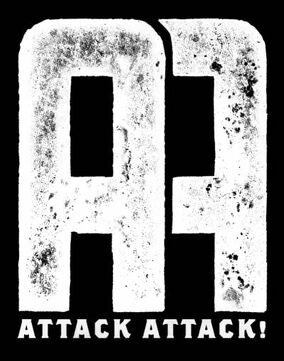 Attack Attack! is an American metalcore band from Westerville, Ohio. Formed in 2005 the band was previously signed by Rise Records. The band's released the If Guns Are Outlawed, Can We Use Swords? EP independently in 2008, which led to their signing to Rise Records the same year. On November 11, 2008 they released their first full-length ablum through Rise Records, Someday Came Suddenly. In 2009 Austin Carlile was fire from the band and keyboardist Caleb Shomo took over unclean vocals for the band. The band released their second album, a self-titled album on June 8, 2010 being the first album to feature Shomo doing the unclean vocals and the first no to feature Austin Carlile. During that year clean singer and rhythm guitarist, Johnny Frank, left the band to focus on his relationship with god. On January 17, 2012 the band released their last album with Rise Records, This Means War, and their first album to feature Shomo doing both clean and unclean vocals. In December 2012 bassist John Holgado and vocalist Caleb Shomo left the band, Shomo's replacement Phil Druyor is the vocalist of I Am Abomination. 
Formation and Signing to Rise Records (2005 - 2008)Edit
Attack Attack! was founded in 2005 by members Austin Carlile, Andrew Whiting, Nick White, Ricky Lortz and Andrew Wetzel. The founding members began working on writing music but would not see a release until 2008. In 2007 Ricky Lortz announced his departure from the band and was soon replaced by Johnny Franck. A short time later Nick White also announced his departure from the band and was replaced by John Holgado and in 2008, Caleb Shom joined the band on keyboards.
In early 2008 the band self-released their debut EP IIf Guns Are Outlawed, Can We Use Swords?. In June 2008 they were signed to Rise Records.
Someday Came Suddenly; Carlile's Departure and His Replacement (2008 - 2010)Edit
Within a year of signing to Rise Records the band released their debut full-length album,
Someday Came Suddenly
. Upon the release of
Someday Came Suddenly
, it peaked on the Billboard Independent Albums chart and number 193 on the Billboard 200, with sales of more than 3,600 in its first week despite its mediocre to overwhelmingly negative reviews.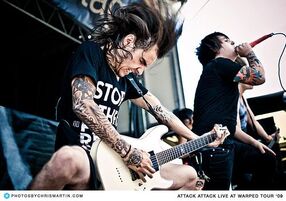 In 2009, the band contributed their cover of Katy Perry's "I Kissed a Girl" on Punk Goes Pop 2, this is the last release by the band to feature Austin Carlile doing unclean vocals for the band.
Halfway through a tour supporting Maylene and the Sons of Disaster, vocalist Austin Carlile was fired by the band due to personal differences and health issues. Carlile was replaced by Nick Barham, former vocalist of For All We Know. Attack Attack! then toured with Escape the Fate, William Control, Black Tide and Burn Halo early in 2009. Attack Attack! was included on Warped Tour 2009 and did signings for the non-profit organization Music Saves Lives where they met with fans who gained special access to the band by donating blood.
Attack Attack! released a music video for their highly criticized song "Stick Stickly", and made its premiere on MTV2's Headbangers Ball. Two music videos were created for the song, the other one made (which was recorded before the "official") is usually referred to as the "unofficial video", due to the band having another idea in mind after production for the first video was completed. The "Stick Stickly" video has led to a number of criticisms, including lengthy pieces by Buddyhead and the British newspaper The Guardian. The band also has a "live" video for the song "Dr. Shavargo Pt. 3".
On October 19, 2009, lead vocalist Nick Barham announced his departure from Attack Attack! just two days short of their headliner tour. He stated in his blog on MySpace that "It was just time for change," and that there was no conflict between him and the other band members. The band then made the decision of Caleb Shomo to be moved as the band's primary vocalist but still remaining at his place as the keyboardist as well.
Near the end of 2009, Attack Attack! toured with I Set My Friends On Fire, Miss May I, Our Last Night, and The Color Morale as part of the "Shred Til You're Dead" tour. Attack Attack! started playing "Sexual Man Chocolate", which was the first song leaked from their self-titled album.
Self-titled Album and Departure of Johnny Franck (2009 - 2011)Edit
Attack Attack! headlined the 2010 Artery Across the Nation Tour with support from
Asking Alexandria
,
I See Stars
,
Breathe Carolina
and
Bury Tomorrow
in early 2010. The group performed three songs off their
self-titled album
live during the tour before its release. The songs performed were "
Sexual Man Chocolate
", "
AC-130
", and "
A for Andrew
". The self-titled album was released on June 8, 2010. The working title for it was intended to be "Shazam!", but was changed due to copyright issues.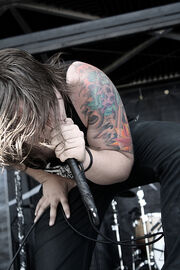 The group performed on the Altec Lansing Stage during Warped Tour 2010 for the entire tour. They headlined the This Is a Family Tour in November 2010.
On November 10, 2010 Johnny Franck announced he had departed from the band to focus on his relationship with God. He has since started a new project called The March Ahead. With this news also came a clip of a new song featuring Caleb Shomo doing both clean, and unclean vocals. Sean Mackowski of My Ticket Home is now a touring member of the band, singing the clean parts of songs from the first two albums and playing guitar. The music video for "Smokahontas" was released on January 21, 2011 and was directed by Thunder Down Country films. The music video featured Sean Mackowski of My Ticket Home and Cody Anderson, the former unclean vocalist of In Fear and Faith. Attack Attack! performed on the main stage at the 2011 Vans Warped Tour.
The band has announced that they are set to re-issue their self-titled album on July 19, 2011 with four new songs, two acoustic songs, and two remixes. A new track entitled "Last Breath" was released on June 7, 2011, to promote the album's re-issue. It is the first song by the band to feature Caleb Shomo on both clean and screamed vocals, and was produced by John Feldmann.
This Means War and Departure from Rise (2011 - present)Edit
On November 14, 2011 it was announced that the band's third full-length, This Means War would be released on January 17, 2012. The entire album was produced by Caleb Shomo at his home studio. Along with this news, they also posted dates for the "This Means War Tour" with supporting acts from The Ghost Inside, Sleeping with Sirens, Chunk! No, Captain Chunk!, and Dream On, Dreamer. More news and the album artwork was released in the Hot Topic website "News." On December 13, 2011, they premiered a song from the album entitled "The Motivation". 30 seconds of the whole track list were released on Amazon.com and pre-orders were also opened in many stores. On January 12, 2012. the band debuted the music video for the first single off the album, "The Wretched". On July 1, they released a music video for This Means War's third single, "The Revolution".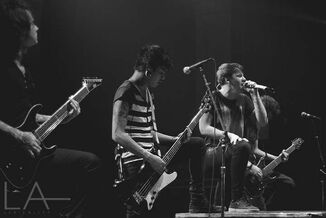 The band recently announced their departure from Rise Records, simultaneous with an announcement that they have completed ten songs, produced by John Feldmann, for another album, although Wetzel said on his formspring the chances of releasing them are "slim to nil". The band stated that they "don't have another record label or anything lined up and [are] probably not planning on going to another one." The band headlined the
This World Is Ours Tour
with
Escape the Fate
and
The Word Alive
, but had to reschedule the South American
This World Is Ours Tour
as their drummer Andrew Wetzel was suffering from pneumonia. The band had also co-headlined the Scream It Like You Mean It tour in 2012. By the end of 2012 Attack Attack! will be releasing a DVD where they talk about Warped Tour and the real reason why Austin left the band in 2008.
In October 2012, Shomo started sharing Christ with the audiences. Sean Mackowski left the band as a touring member at the end of October 2012.
New Line-up and Fourth Album (2012 - present)Edit
In December 2012, John Holgado announced on Instagram that he would be selling his bass guitars, and is leaving Attack Attack! due to depression and anxiety issues. Holgado has stated that he left on good terms. Caleb Shomo tweeted about John's departure "What a crazy day. Real proud of John and his bravery. Love that man, been my best friend since I was 14."
Following Holgado's departure from the band vocalist Caleb Sbomo announced his departure from the band on December 18, 2012. During the announcement Shomo comfirmed that he has not been with the band for three months and he has been dealing with depression since middle school. He also announced that Phil Druyor of the progressive post-hardcore band I Am Abomination will be the new vocalist for the band. Shomo has since started, Beartooth, a post-hardcore band. The same day Phil Druyor released his own statement, stating that on January 5, 2013 the band will begin production with their untitled fourth album.
On December 19, 2012 the band released their new single, "No Defeat", with new vocalist Phil Druyor and bassist Tyler Sapp through Alter the Press.
Musical Style
Edit
Attack Attack! have been known to perform the metalcore and post-hardcore genres combined with electronica influences. This combination usually features distinct traits into Attack Attack!'s music. Songs usually have but are not limited to synth breakdowns, keyboard solos, basic rock song structures, and minor key tonality.
The band will be going in a new direction with the sound of their fourth album. Phil Druyor had this to say about the band's new sound: "The direction of the new album is definitely a bit of a change up, but I feel that the band has made a name for themselves inside of their genre by being the band to change the game first. We plan to do that again".
Band Members
Edit
Current MembersEdit
Former MembersEdit
Touring MembersEdit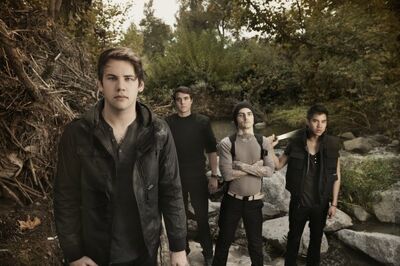 Discography
Edit
Studio AlbumsEdit
Extended PlayEdit
References
Edit