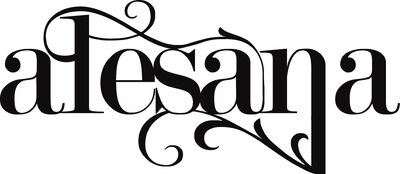 Alesana is an American post-hardcore band from Raleigh, North Carolina. Formed in 2004, the group is currently signed to Epitaph Records and have released one EP and four full-length studio albums. The band gained a wide audience after their debut, On Frail Wings of Vanity and Wax was released, featuring a musical style shifting between light and heavy sounds along with a wide influence ranging to even classic rock bands such as The Beatles. Their band name is derived from street named Aliceanna St, which is located in Baltimore where the group originated.
Formation and Try This With Your Eyes Closed (2004 - 2005)Edit
Although the band's members first began playing together in Baltimore, Maryland, Alesana officially formed in October 2004 in Raleigh, North Carolina and was founded by Shawn Milke, Patrick Thompson, Dennis Lee, Steven Tomany and Daniel Magnuson. The name of the band is inspired from Aliceanna St., which Shawn Milke and Patrick Thompson lived on when playing in Baltimore, MD. Aliceanna St. is located in Fells Point, a neighborhood in Baltimore. Alesana was the first band to join Tragic Hero Records in 2005, and their 3 demo songs titled "Apology", "Beautiful in Blue" and "Goodbye, Goodnight for Good" were featured on the compilation All The Tragedy Money Can Buy. In May 2005 they released their debut EP, Try This With Your Eyes Closed. Alesana then toured across the United States, including an appearance at the Cornerstone Festival, despite not being a Christian band. In the same year, founding drummer Daniel Magnuson was replaced by Will Anderson. The record is also the first to feature Shawn Milke's sister, Mellissa, whom performs all female vocals.
On Frail Wings of Vanity and Wax (2005 - 2008)Edit
In 2006 the group added a new drummer Jeremy Bryan to replace Will Anderson and added guitarist/vocalist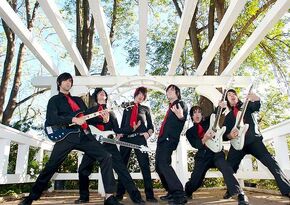 Adam Ferguson to their lineup.
[7]
They followed with a full-length album, entitled
On Frail Wings of Vanity and Wax
, produced by Kit Walters, during the summer of 2006. In late 2006 Alesana signed to
Fearless Records
, which re-released their LP in March 2007 to mixed reviews and released a music video for "
Ambrosia
". In the same year, the song "Apology" in an acoustic version was featured on the compilation release,
Punk Goes Acoustic 2
. The group played the entire
Warped Tour
2007, but following afterward, bassist Steven Tomany left Alesana.
In early 2008, On Frail Wings of Vanity and Wax charted on the Billboard Heatseekers chart, peaking at #44.
Where Myth Fades to Legend (2008 - 2009)Edit
In 2008, Alesana finished recording their second album, Where Myth Fades to Legend. It was released on June 3, 2008, but was leaked on popular torrent sites a month beforehand. Where Myth Fades to Legend was also the title of their headlining tour with Sky Eats Airplane, Our Last Night, Lovehatehero, and The Chariot that supported the album. At the time of preparing for the record a year before, the band lacked an official bass player. Shane Crump, who previously played in a band named Your Name in Vain and originally a merchandise salesman for Alesana, was invited into the group after an audition, thus making the record Crump's debut.
On the 2008 Warped Tour, Shane Crump briefly left due to personal matters at home and Jake Campbell (Twelve Gauge Valentine guitarist) became a temporary fill in-bassist. Upon Crump's return, Adam Ferguson and the band parted ways and Cambell became rhythm guitarist.
On January 20, 2009 the music video for "Seduction" was officially released and on March 10, 2009 the album Punk Goes Pop 2 was released which includes Alesana's cover of "What Goes Around...Comes Around" by Justin Timberlake. Alesana's Where Myth Fades to Legend has also charted on the Billboard 200 at #96 and on the Billboard Hard Rock Album at #13.
The Emptiness (2009 - 2010)Edit
In late February, Shawn Milke announced Alesana had started writing new material for their upcoming album. They began recording their third studio album, in July 2009, in Portland, Oregon, with producer Kris Crummett. The album, according to Shawn Milke on The Rave TV, would be entitled The Emptiness. The band has made their progress in the studio viewable to fans through a Twitter account and an official website run by the band themselves. Concluding the band's recording session, which began on July 10, Alesana then set out for North Carolina to rest before they began their Vs. tour, which they headlined and included the bands The Bled, Enter Shikari, Broadway, Madina Lake, and Asking Alexandria. On the Vs. tour, Alesana's set included two new songs titled "To Be Scared By An Owl" and "The Thespian". Soon after concluding their month long Vs. tour, Alesana headlined the "You'd Be Way Cuter in a Coffin" Tour with From First to Last, Asking Alexandria, The Word Alive and Memphis May Fire.
On October 15, Milke and Lee held a second interview with The Rave, where they revealed that they were shooting a music video in the fall for one song from The Emptiness. The two members went on to tell Linda, the interviewer, that due to their large fan base in Mexico and South America, they would be releasing a Spanish version of 2 of their songs. Milke also revealed that the album, The Emptiness, was to be released on January 26, 2010. On November 23, Alesana released their first recorded work off of The Emptiness, "To Be Scared By An Owl" and began to promote it as a single. The same week, they entered the studio to begin filming their third video which according to their website, is "The Thespian", the song was released on December 8, 2009. In 2009, Alesana won the Best Hardcore/Screamo Band at the Rock on Request Awards. The band were also invited to play "To Be Scared by an Owl" live on The Daily Habit.
After the release of their music video for "The Thespian" on March 17, the group became less active while promoting the 2010 Warped Tour, which they took part in at the end of June. Right before their first venue on the Warped Tour, guitarist Jake Campbell left the band to be with his family, and Alex Torres of Greeley Estates took his place. Upon the release of The Emptiness, it debuted at #68 on the Billboard 200, which made it the best selling release by the band during this period.
On July 22, 2010, Milke made a statement on the official Revolver website, regarding his constant desire to write scripts, stories and music; considering The Emptiness his 'first printed story'. Milke went on to say that he is constantly writing, and that new material for an Alesana album—as well as material for Wake Me Up, Juliet and Tempting Paris—was already being created. After The Emptiness's recording, the group announced a headlining tour entitled: Two Frail Weeks of Vanity and Wax, in which they performed On Frail Wings of Vanity and Wax in its entirety on each date of the tour, along with confirming that some songs would never be played live again after these concerts. In November of 2010, Alesana departed from Fearless and signed to Epitaph Records.
A Place Where the Sun Is Silent (2010 - 2012)Edit
During the beginning of 2011, the band confirmed that plans for a new record were already in the works. Alesana stated that chosen VIP's were involved within the testing of new tracks that were prepared to be included on their fourth studio album. These trackings were recorded during March 2011 with producer Kris Crummett. By the beginning of that summer, Alesana completely finished the record's recording sessions. Alex Torres, Shane Crump, and Dennis Lee shortly thereafter confirmed that the mixing was finished as well and that they had the first master copies published. The name of the album was then announced to be titled, A Place Where the Sun Is Silent, and was released on October 18.
Before its release, promotion for the record was supported by many magazines, websites and other publications. August 24, 2011 had Alternative Press premiere the first leaked song from the album, entitled "A Gilded Masquerade". September 20th had Buzznet streaming "A Forbidden Dance" on their website as part of a contest for a lyric video.
On November 30, 2011, the music video for the song "Lullaby of the Crucified" was released.
The album thematizes Dante Alighieri's 14th-century epic poem, Inferno. On December 20, 2011, the song "Circle VII: Sins of the Lion" was voted the best song of 2011 by readers of Revolver.
Untitled Fifth Album (2012 - present)Edit
In May of 2012, Lee began a four-pierce side band named Child of the Jackyl with members of the thrash metal band Vanisher. The band confirmed later in the year that their fifth studio album is currently in its pre works, but only in its writing stage so far. The band moved on without guitarist Alex Torres on the evening of August 19, 2012 by asking him to leave. Torres cited that the decision was "for the best." It's been confirmed that Jake Campbell has rejoined the band.
Musical Style
Edit
Alesana's overall genre is difficult to determine due to their frequent use of light and poppy influence combined with heavy outputs and extreme metal vocals. The band has been considered a wide array of many things, including metalcore, post-hardcore, emo and screamo. Although these are the genres that Alesana is usually classified as, the band has labeled themselves as pop-metal, and "sweetcore" (a term that was made-up by the group that parodies the cliché of genres that suffix in "core").
Influences for the band include an array of rock bands such as The Beatles, Sonic Youth and Mew. The band is also influenced by an array of metal bands such as The Black Dahlia Murder and Iron Maiden.
Band Members
Edit
Current MembersEdit
Former MembersEdit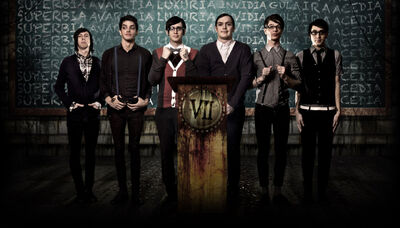 Discography
Edit
Studio AlbumsEdit
Extended PlaysEdit
References
Edit