Abandon All Ships is a Canadian post-hardcore band from Toroto, Ontario. Formed in 2006, the group is currently signed domestically to Universal Music Canada via Underground Operations, along with an American deal to Rise Records and its imprint Velocity Records. The band has since released a self-titled EP independently in 2009 and two full-length studio albums, Geeving in 2010 through Universal and Rise, and also Infamous in 2012.
Formation and disBAND Television Show (2006 - 2009)Edit
Abandon All Ships was founded in 2006 in Toronto, Ontario, originally playing covers of
Norma Jean
songs. Most of the band members attended Dante Alighieri Catholic Secondary, including lead vocalist Angelo Aita, keyboardist Sebastian Cassisi-Nunez, and original guitarist David Stephens. All band members are of Italian descent. The three just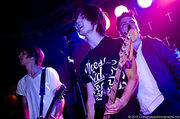 started the band to play gigs and their career escalated from there. By 2008, the band released four demo songs online, which were "Megawacko", "When Dreams Become Nightmares", "Brendon's Song" and "Pedestrians Is Another Word for Speedbump". These demos featured a heavy
mathcore
influence (especially "When Dreams Become Nightmares"), which differs highly from the band's current
post-hardcore
/
electronicore
style. After rising in the Toronto scene, the group eventually toured and opened for many larger bands in their same genre or home country such as
Silverstein
.
Abandon All Ships widely were thought to be a Christian band, but this is controversial due to the band's regular use of profanity and suggestive lyrics in their songs and eventually settled the debate that while a majority of the members are Christians, the band is not a Christian band. Abandon All Ships quickly became popular on the Internet through MySpace, and were noticed even more after their appearance on the MuchMusic's television program disBAND early-on in their career.
Geeving (2009 - 2011)Edit
In early 2010, the group was signed to
Underground Operations
,
Rise Records
, and
Velocity Records
. They released their first single, "
Take One Last Breath
" formerly "Pedestrians Is Another Word for Speedbumps" on June 29, 2010; the music video premiered online the same day. They played at the 2010
Bluesfest
in Ottawa, Ontario. At the festival they played some new songs, including "Geeving", "Guardian Angel" which features
Lena Katina
from the Russian band
t.A.T.u.
, "Maria I Like It Loud", and their first single "Take One Last Breath" all were to be featured on the then-upcoming album,
Geeving
.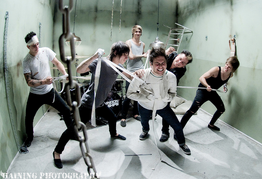 The single "Megawacko 2.0" was released on iTunes on August 24, 2010, along with the music video premiering on MuchMusic that same day. By September of that year, "Bro My God" also premiered with online streaming. Abandon All Ships with their increasing popularity were then included on the Monument tour from October 29, 2010 to December 5, 2010 with Miss May I, Sleeping with Sirens, The Crimson Armada, and Bury Tomorrow.
Line-Up Changes and Infamous (2011 - present)Edit
On January 24, 2011, lead guitarist, Kyler Browne left the band. Browne left a note on his
Facebook
profile stating: "I have left AAS due to my own personal reason's having nothing to do with anyone in the band personally. The guys are all brother's to me however my heart was not in it anymore. I thank you all for all the love and support and I wish you all the best." Taking Browne's place is lead guitarist Daniel Ciccotelli. Abandon All Ships participated in the 2011 Vans Warped Tour for selected dates on the east leg.
On July 14, 2011 the Paiano brothers, Andrew and Daniel, parted ways with the band. At first, it was unclear exactly what led to the departure of these members, but it was later revealed that they were kicked-out as opposed to it being their choice as not continuing as a part of the group. The remaining members explained "Well if you haven't already heard the news, Andrew and Dan Paiano will not be continuing in Abandon All Ships due to personal reasons I would not like to touch upon at this point and time. We wish them the best of luck with whatever they do in the future. As for Abandon All Ships, we will without a doubt be continuing the band." Shortly after the incident, Andrew was invited to join Velocity Records labelmates Woe, Is Me as lead guitarist, an invitation which he accepted, with Daniel coming in as the band's drum tech.
On January 18, 2012, the band announced that they are in the process of recording their second studio album. The title was announced as Infamous, and it was released on July 3, 2012. The video for its title track was released on the first of May with its environment and direction being described as "very Toronto".
Abandon All Ships played on the Scream It Like You Mean It tour around North America. In September they headed out on a tour around Canada in support of We Came As Romans, also played will be Skip the Foreplay and Ice Nine Kills. After that they immediately headlined their own tour around Canada with support from Fall City Falland Skip the Foreplay.
On December 14, drummer Chris Taylor announced in a Youtube video that he was leaving the band due to feeling unhappy.
Musical Style
Edit
Abandon All Ships is primarily a post-hardcore and metalcore band with the traditional screamed vocals, usually performed in an emo style, and also features auto-tuned vocals. The band, which essentially plays in an emo style, are considered to have ano emo appearance. Along with their heavy punk influences, they infuse elements of electronic music, most notably electropop, electro, trance, synthpop, dance-pop, and even dubstep. In songs like "Take One Last Breath" they play more technically, giving their usual metalcore atmosphere more of a mathcore sound and effect. In some of their "softer" songs the band incorporates Broda's auto-tuned voice in a rapping style giving the songs more of a sense of hip-hop and R&B, and give a rest to their usual styles of metalcore and post-hardcore.
Some of their songs feature guest vocals from rap and hip-hop artist; most notably undiscovered rapper Jhevon Paris and Canadian rap duo A-Game.
Christianity Mis-Label
Edit
Although having Christian themes in the band's music as a regular feature, Abandon All Ships is not a Christian band. Also notably is that despite including these Christian themes in their music, the band's lyrics also frequently feature profanity. In addition, the name of their album, "Geeving," is taken from the Urban Dictionary definition of the word, which directly reads "Couldn't care less. Don't give a shit. Leave me alone. Fuck off. Happy Thanks Geeving." Furthermore, vocalist Angelo Aita has commented that the title track to Geeving is "about not giving a fuck."
Band Members
Edit
Current MembersEdit
Former MembersEdit
Discography
Edit
Studio AlbumsEdit
Extended PlaysEdit
References
Edit
Community content is available under
CC-BY-SA
unless otherwise noted.