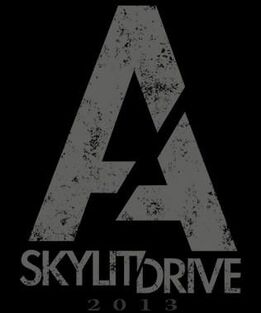 A Skylit Drive is an American post-hardcore band from Lodi, California. The band has released one DVD, one EP and three studio albums: Wires...and the Concept of Breathing on May 20, 2008, Adelphia on June 9, 2009, and most recently Identity On Fire on February 15, 2011. The band has been noted for Michael Jagmin has provided clean vocals for the band since 2008 and is recognized for his unusual singing range. The band is currently working on their untitled fourth album.
Formation and She Watched the Sky (2006 - 2007)Edit
A Skylit Drive's original members all met while attending Lodi High School in Lodi. Cory La Quay attended Franklin High School in Elk Grove, California along with Zyler Gilley and Curtis Daniger (Tokay High School) left the band due to enlisting in the U.S. Army (he would later go on to other local bands like Scream no Louder and Adjasent Red), but did however help record some demo pieces. Their debut EP,
She Watched the Sky
, was released early in 2007 on Tragic Hero. Following this the group toured with
Four Letter Lie
,
Blessthefall
,
Scary Kids Scaring Kids
,
Greeley Estates
,
Oh, Sleeper
,
The Blackout
,
Alesana
,
Before Their Eyes
,
Dance Gavin Dance
,
Kenotia
,
Pierce the Veil
, and
From First to Last
. Jordan Blake left the band mid-tour around November 2007 due to ulcers that made it difficult for him to sing. Blake's departure was mutual between him and the other members of the group. He then formed the musical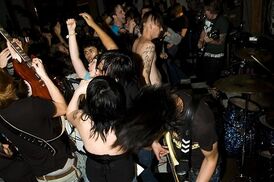 projects Watchout! There's Ghost, JbdJ, Trances, and The Legend. The Leader with Etienne Sin and Dani Quero.
Following departure from A Skylit Drive, Jonny Craig aided A Skylit Drive for a few shows after leaving Dance Gavin Dance. A new singer, Michael "Jag" Jagmin, then joined, being the final lineup change the band would go through thus far. The band has also retained the same recording personnel which produced their earliest material. Jessy Mickles is their head recording supervisor.
Wires...and the Concept of Breathing (2008)Edit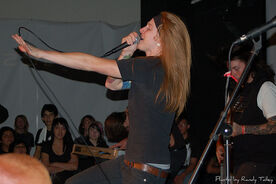 A demo version of "
Knights of the Round
", was performed live with Jonny Craig as the lead vocalist during his few performances with the band in November 2007. Though Craig had written lyrics to the song, only the chorus or refrain is believed to have been kept in the final album version sang by their new-found, permanent vocalist Michael Jagmin, formerly of
Odd Project
. Craig Mabbitt also tried out for lead vocals after leaving
Blessthefall
, but later joined
Escape the Fate
after dialing the wrong number in an attempt to contact A Skylit Drive's Manager, but instead reaching Escape the Fate's. The full length album
Wires...and the Concept of Breathing
(produced by Mitchell Marlow and Allen Jacob) appeared in May 2008. The album hit No. 171 on the U.S. Billboard 200, as well as No. 9 on the Top Heatseekers Chart and No. 20 on the Top Independent Albums chart. Shortly after the release of the album they filmed a music video for the nonprofit group
To Write Love on Her Arms
directed by Robby Starbuck. They appeared at The Bamboozle in 2008 and toured in the summer of that year with
Sky Eats Airplane
,
Breathe Carolina
, and
Emarosa
.
They toured with Greeley Estates, August Burns Red, Sky Eats Airplane, This or the Apocalypse, Escape the Fate, Alesana, Chiodos, and Silverstein during fall in 2008. They also filmed a live DVD called "Let Go of the Wires", which was released on December 9, 2008.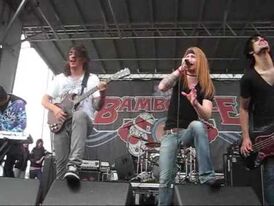 In Mid-November the band released a music video for the song "
Wires and the Concept of Breathing
". The video can be viewed through their MySpace profile. Their song "
This Isn't the End
" is now the music video on their MySpace directed by Robby Starbuck about teen suicide in conjunction with the non-profit organization
To Write Love on Her Arms
. Both videos are on their first full length album,
Wires... and the Concept of Breathing
, and the band has shot other videos for songs on the album. They have announced that there will be five brand new videos on their upcoming DVD "Let Go of the Wires" as well as live performance footage from a show at the Glasshouse in Pomona, CA. The DVD was released exclusively at Hot Topic on December 9, 2008.
On December 19, 2008, it was announced that A Skylit Drive would be a part of the Vans Warped Tour 2009 lineup. A day before Warped Tour 2009 began, the band appeared at a Hot Topic store in Montclair,CA.
Adelphia (2009 - 2010)Edit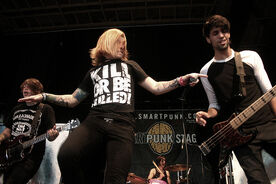 In their DVD, "Let Go of the Wires", the band discussed plans for their next album. The album was to be titled "Glaciers". The band later announced that this would not be the title of their new album. On May 26, 2009, A Skylit Drive released a new song, entitled "
Those Cannons Could Sink a Ship
" onto iTunes and also for play on their MySpace page. The song is the first of their new album to be released on iTunes. Their second full-length album,
(A Skylit Drive) Adelphia
, was released on June 9, 2009 and peaked at number 64 on the Billboard 200. The band released a music video for "
Those Cannons Could Sink A Ship!
" on October 19, 2009, directed by Spence Nicholson.
On January 8, 2009, the band announced, via a MySpace bulletin, that they were now a part of Fearless Records and to expect a new album release sometime in 2009. They also announced tour dates with Dance Gavin Dance. A Skylit Drive was a part of Warped Tour for the 2009 season. the band also did a signing at hot topic in Montclair,CA the day before the first day of Warped Tour 2009. During the tour they did signings for the non-profit organization Music Saves Lives. A Skylit Drive recently announced a new tour with Senses Fail starting on September 30. After their American tour, the band did their first tour of Europe.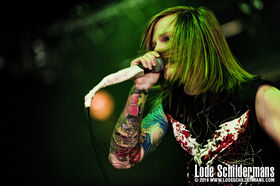 On December 6, 2009, the band recorded a cover of Journey's "
Separate Ways (Worlds Apart)
" for the next Punk Goes compilation.
During February–March 2010, the band toured with We Came As Romans, Of Mice & Men, The Word Alive, and headliners Alesana, nationwide. During a New York City set on February 16, Dee Snider (vocalist of Twisted Sister) appeared to see the show, and hang out with the band(s). On his Twitter, Jag was quoted saying, "I'm never going to get over hearing Dee Snyder compliment my voice. Dee, "can you really pull it off every night?". Me, "You'll see."
This tour, titled The Emptiness Tour, will continue Spring 2010 in the U.K. and Europe. While Of Mice & Men, We Came As Romans, and The Word Alive won't be appearing out of the U.S. shows, ASD (as well as Alesana) will be sharing the tour with Emarosa and Bury Tomorrow.
Identity On Fire (2011 - 2012)Edit
On his Formspring account, Jagmin predicted that A Skylit Drive would begin writing and recording a follow-up to
Adelphia
during Summer 2010. He also suggested that the album would see an early 2011 release.
In February 2010 Hassle Records published on their web site "We have new recruits to the Hassle Records family, please welcome A Skylit Drive with open arms... Fresh out of California, A Skylit Drive have been together in their current line-up since 2007 and have been touring their unique brand of metalcore across the US. We released their second album Adelphia in October and the UK joined the ever growing A Skylit Drive bandwagon. Catch the band on the rapidly selling out UK / Europe tour with Alesana in April."
The band announced via MySpace that on May 29, 2010, the band Desires of Sires will debut on their Adelphia tour. Recently, Michael Jagmin hinted on Twitter that A Skylit Drive is currently writing new material. A Skylit Drive is recording new demos. The band's MySpace layout changed in July 2010 with a new message saying that A Skylit Drive was in the studio recording a new album with Cameron Webb for early 2011.
The band was on the "Average Guys with Exceptional Hair" tour with bands Woe, Is Me, For All Those Sleeping, Motionless in White and Scarlett O'Hara.
On December 7, 2010, the band announced the tracklisting for the album and a date set on February 15, 2011. They have been on tour mid January through February with Underoath, Thursday, and Animals as Leaders. The band has released a music video for "
Too Little Too Late
" on January, 12, 2011.
They will participate in all dates of the Warped Tour 2011 at the Ernie Ball stage.
The band has also announced they will be on a European tour set for Autumn 2011 along with Woe, Is Me, I Set My Friends On Fire, and Sleeping With Sirens.
On September 9, 2011 the band posted that they're in the studio recording a cover song for the upcoming Punk Goes... Compilation. The pre-production began on Monday September 12. The cover of "Love the Way You Lie" was announced via Facebook.
On January 20, 2012 A Skylit Drive released "The Cali Buds" music video, via Alternative Press.
In February 2012, A Skylit Drive toured South East Asia with Australian band, For This Cause.
Untitled Fourth Studio Album and Departure of Joey Wilson (2012 - present)Edit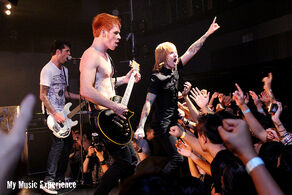 On July 22, 2012 the band posted that they officially began the pre-production for the follow up to
Identity On Fire
. They will be entering the studio with Cameron Mizell later this year. On September 19th followers of A Skylit Drive's Twitter noticed Joey Wilson was no longer listed in the lineup. He confirmed this via a Facebook post stating he has parted ways with the band. There is no official word from the band and he has yet to state why he left. Wilson did however recently get out of rehab on September 14th after successfully taking many recovery courses for a month, which would explain why he had been absent from more recent tours. Other sources claim his past drug and alcohol issues are what led up to his departure and being kicked off the All Stars Tour, though he has stated he intends on furthering his music career with a new project.
A Skylit Drive entered the studio on Friday, October 26, 2012 to begin recording a new single. The actual recording sessions for the new album will be starting in January.
Their new single, titled "Fallen", will be released on November 30th, 2012. On November 29th band released a lyric video for the single. The video was posted on Tragic Hero Records' official YouTube channel with Fearless stating the new album will be a joint venture between both labels. They did, however, not release "Fallen" on November 30th as planned and said it's to be released the following week. On November 26, the band embarked on the Nut Up or Shut Up tour with Skip the Foreplay, At the Skylines, and Blessthefall. On December 4th, A Skylit Drive performed "Fallen" live for the first time at the Opera House in Toronto, Canada.
Band Members
Edit
Current MembersEdit
Former MembersEdit
Touring MembersEdit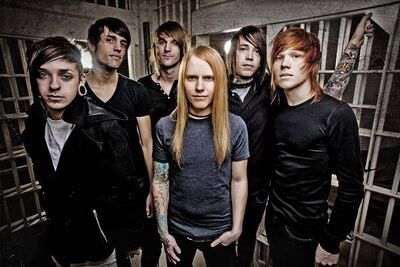 Discography
Edit
Studio AlbumsEdit
Extended PlaysEdit
New Music
Edit
References
Edit