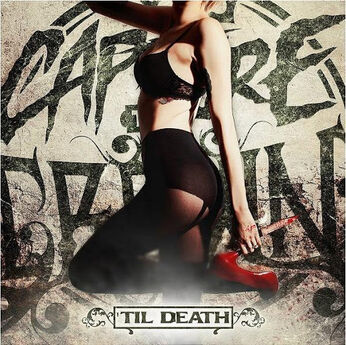 '
Til Death
is the first studio album from Australian
metalcore
band
Capture the Crown
. The album is the first release by the band and will be released on December 18, 2012.
Track Listing
Edit
Standard EditionEdit
"The Arrival"
"#OIMATEWTF" (featuring Denis Shaforostov of Make Me Famous)
"Fork Tongued"
"Lax"
"You Call That a Knife? This Is a Knife!"
"Storm in a Teacup"
"Help Me to Help You"
"Deja Vu"
"Insomniac"
"RVG"
"'Til Death"
"The Departed 2.0"
Bonus TrackEdit
Personnel
Edit
Capture the CrownEdit
Additional MusiciansEdit
ProductionEdit
Produced and Mixed by Cameron Mizell at Chango Studios in Orlando, Florida
Mastered by Joey Sturgis at Foundation Recording Studios in Connorsville, Indiana
Music Videos
Edit
"Help Me to Help You" is speculated to be a re-recorded version of the song "Help Me to Help You Mr. Phil," which was performed by the band's previous incarnation, Atlanta Takes State.
References
Edit